Save the Date!
Mark your calendars. Our summer social will be held in person on June 22. We will learn more about and raise funds for Seedlings Braille Books for Children . We look forward to seeing all of you.
Wednesday, June 22, 2022 6-8:30pm.
George's Senate Restaurant
39430 Dun Rovin Dr.
Northville, MI 48168
(On Bushwood Public Golf Course)
Watch for Invitation to register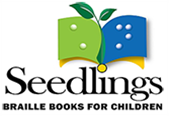 Giving Hope, Women's Giving Circle will be supporting Seedlings, Braille Books for Children. They believe that it is important for all children to be raised in a literacy rich environment. Visually impaired children also need to be surrounded with affordable braille materials. Braille Reading= Literacy, Independence and Success. Katelynn Lucus from Seedlings, Braille Books for Children will speak to our ladies about their mission and how we can support them.
Seedlings, Braille Books for Children is located
14151 Farmington Rd.
Livonia, MI 48154
734-427-8552
Vitrine On Main is joining us in helping to support Seedlings, Braille Books for Children. Susan from Vitrine will provide a couple of items from her store for a drawing at our Summer Social Event. There will be a two day shopping event on Friday, June 24 & Saturday, June 25. Susan will donate 20% of the sales to Seedlings, Braille Books for Children. Vitrine on Main is located at 772 S. Main St., Plymouth, MI 48170 (734)259-8251.
Fox Hills Golf Package drawing.
A special drawing for those members who bring a guest to the June 22 event. The prize is a Fox Hills round of Golf for 4 golfers with cart included! Also included is one of our new GH golf shirts.